Every few weeks, and usually after a couple of particularly heavy meetings, I like to catch the girls up on their badges and just generally have some fun being silly. This week's meeting is one of those!
Here is the Meeting Plan:
Weekly Planning
1st Holland Landing Brownies
Date: August 30 2020: A HodgePodge
| | | | | | |
| --- | --- | --- | --- | --- | --- |
| | Activity Description | Who is leading it? | Program to be covered | Materials Needed | Time needed |
| Gathering | Joking Around | RO | Spirit of Guiding | Jokes! | 5 min |
| Opening | Opening Songs and Promises | RO | Our Story | | 3-5 min |
| Activity 1 | Read: Ada Lovelace and Computer Algorithms | RO | Design Space, Gender Power | Epic Books: https://www.getepic.com/app/read/39003 | 10 min |
| Activity 2 | Design Your Own Machine | RO | Design Space | Paper, writing/drawing materials | 10-15min |
| Activity 3 | DANCE BREAK–Walk like an Egyptian | RO | Spirit of Guiding | https://youtu.be/Cv6tuzHUuuk | 5-10min |
| Activity 4 | Read: The Magic Drawing | RO | Spirit of Guiding, How To | Epic Books: https://www.getepic.com/app/read/66859 | 10 min |
| Activity 5 | Let's Tell A Story! (Funny Animals) | RO | Spirit of Guiding, Being You, Different Together | (See Below) | 20-30 min |
| Activity 6 | Read Me and You. | RO | Being You | Epic Books: https://www.getepic.com/app/read/6259 | 5-10 min |
| Closing | Closing Songs | RO | Our Story | | 2 min |
Joking Around
I have a number of jokes for kids books in my Guiding Library. They are great for camps, waiting times, and filling gaps that may happen at meetings. I can read them, or the girls can read them; they really are handy to have around! Pick them up at garage sales, thrift stores or those tables at Guiding Events.
Activity 1: Read: Ada Lovelace and Computer Algorithims
I have tried to pass on my love of Ada Lovelace to girls in my units over the years. She is such an inspiring woman, and girls who are into STEM get a hero! At the start of the summer, my Brownies took an online coding class with Ultimate Coders, to learn some of the basics of Scratch. I highly recommend finding this kind of thing for your own units if you can. Some places may be willing to offer a free trial class to your unit, or if you split the cost among your kids, it may not be very much at all. But, it is really fun and many of my girls have gone on to learn even more about coding.
Ada Lovelace and Computer Algorithms is a great book to hit all the highlights of how she created the first computer program. Ada Lovelace and Computer Algorithms examines the life of this important woman and her contributions to computer science. Sidebars encourage readers to engage in the material by asking deeper questions or conducting individual research. There is an activity within that asks readers to create their own machines, and we usually do that activity as part of this book reading.
TIP: You can find this book on Epic Books if you are using that for virtual meetings (and I highly recommend it!).
If you haven't read the Ada Lovelace entry in Goodnight Stories for Rebel Girls to your unit yet, I HIGHLY recommend it. My units from Sparks to Rangers love this book, and it gets brought to every single camp.
Activity 2: Design your Own Machine
In the book Ada Lovelace and Computer Algorithms, we learn that Ada created a flying machine before any kind of airplanes were even invented! The book (and I!) encourages the reader to create a new machine and describe what it does. Brownies generally especially love this idea, and come up with all kinds of delightful things! It's a good way to inspire them to work on their Inventor Discovery Badge!
Activity 3: Dance Break!
I said it was a fun and silly meeting right? Frankly I'm a fan of dancing being a part of every meeting, and don't be afraid to do it over ZOOM! For this meeting I picked The Bangles, Walk Like an Egyptian. There are tons of children's dance videos out there on Go Banana etc., but I like to show them the real thing! They are always watching that made-for-little-kids-stuff and while there is nothing wrong with that, I think sometimes it's good to be exposed to the authentic article–one that's not tailor made for you.
Activity 4: Read: The Magic Drawing
The Magic Drawing is a book about a child who draws a fantastic picture. At night, the picture comes to life and they characters he has drawn need him to make solutions to their problems for them. This books helps to get kids thinking about the components of story-telling and how to bring their ideas to life! I use this book on EPIC, I haven't seen an actual copy of it anywhere.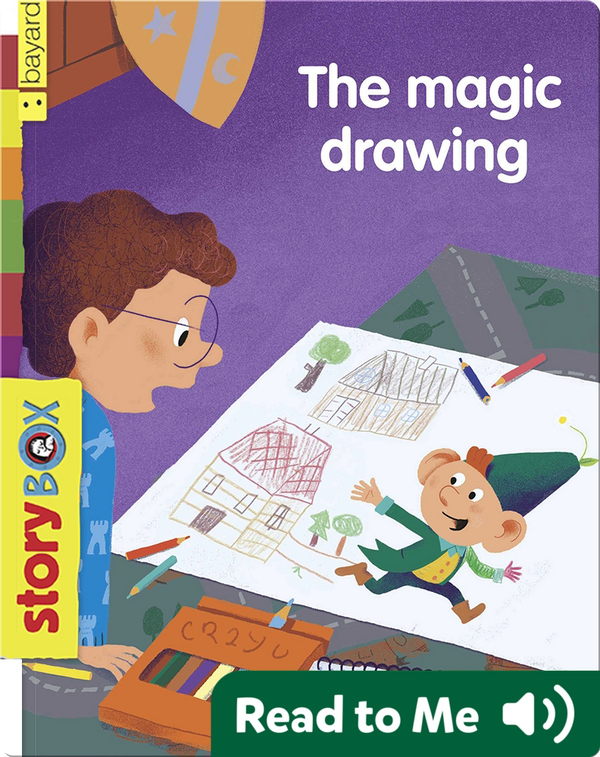 Activity 5: Let's Tell A Story Together: Funny Animals
Okay, this is maybe my favourite thing to do at ZOOM meetings! Basically, I show hilarious (photoshopped) pictures to the girls, and they take turns writing a page of the story. This is the online version of the group campfire story. Online it's even easier! You put the slide show up on your share screen, hilarity ensues and you take turns picking girls to tell the story. I like to write it down in the slides as they are typing and sending to the parents afterwards.
Here is the story I chose for this meeting:
You can find more ways to access this Slide Show, as well as more info on Virtual Group Stories here: Virtual Group Stories.
Activity 6: Read Me and You
Some of my girls need just one more activity for their "Being You" badge. Reading and discussing this book will get us there! Me and You is a gentle celebration of friendship and individuality by award-winning writer and illustrator Geneviève Côté. It will reassure young readers that they are loved and special as themselves. If I have a younger Brownie unit, I will read this one to them, so they can see being themselves, and being unique is good for friendships! A feel-good way to end the meeting.